So you like the idea of working with guitars?
You're here because you love music and want the expertise to fix guitars. You obviously want to do a great job so you're looking into learning what you don't know.
The freedom, and profit, that comes with owning your own business is intriguing.
But right now, getting paid to fix up guitars seems unreal. At the same time, you know guitarists are passionate about their gear… 
And it's no secret that more often than not, serious musicians are reluctant to hand over their axe to an hourly employee in a 3 Star retail store. 
You see:
These guitarists aren't looking for the cheapest option. They're searching for knowledgeable technicians they can talk to and trust…
The kind of guitar technician you know you'd be. If only you knew how to repair guitars with confidence.
You assumed it would take YEARS to become a guitar technician…
Gaining the skills required to become a guitar technician only takes years when you don't have the right training. Truth is, trawling through confusing YouTube videos and impractical how-to guides won't give you the solid foundation you need to put your skills into action.
At the same time, you don't need to invest thousands in coveted training and expensive tools. 
You need someone to walk you through how to complete the repair services customers need most. Along with a roadmap to get your business off the ground so you can start turning your new skills into cash ASAP.
Hi, I'm Eric Petrus Founder Of NoVA Guitar Setups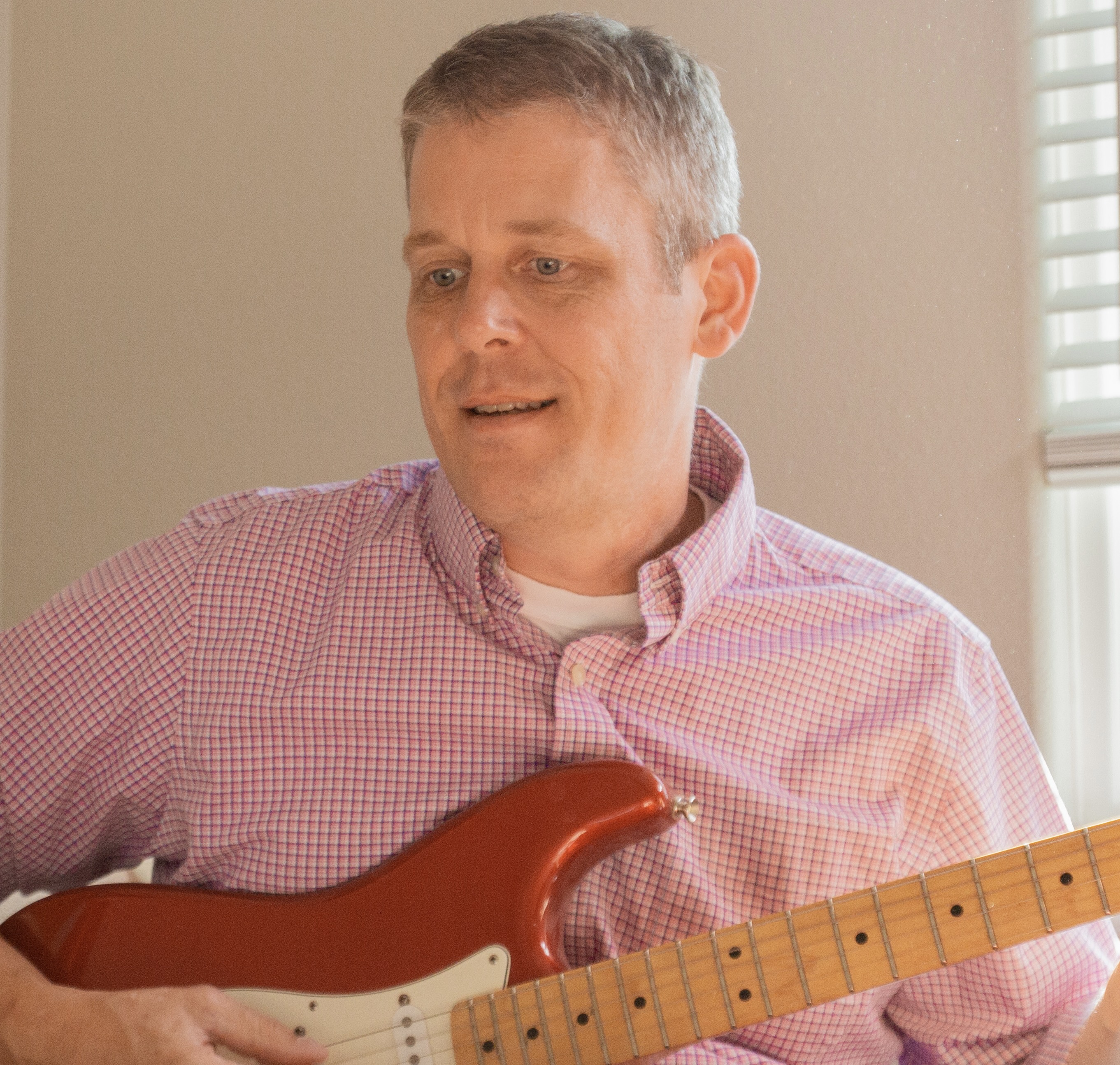 For 20 years, I worked as a professional chef. I was in charge of large operations, I authored hundreds of recipes, and managed upwards of 65 people and it's fair to say, I got a little burned out.
When the pandemic hit, I was stuck with no job and a 7-year-old in virtual school. I couldn't go back to the food industry, so I took the opportunity to revisit my love of guitars.
I was a long time enthusiast and I had tools to do a setup. I was new to the guitar repair business, but I was determined to become an expert so I could provide the best service possible for customers. 
I had no money to invest, so I started NoVA Guitar Setups on my living room floor. Within 6 months, I had more 5-star reviews than my closest competitor. 
After a year, I had more 5-star reviews than all my competitors combined. And my clients repeatedly told me I needed to raise my prices. 
I began to enjoy more personal freedom and more control over my life. I took notes the entire time in the hope that if it worked out, I could teach others how to do the same.
Today, I get to spend my day surrounded by guitars. I can find clients in minutes. I've replaced my old salary and I love my new business.
I'm going to show you how to repair any guitar and attract clients on demand. Without...
Investing 15K in Luthiery Schools

Looking through confusing information on Youtube

Paying through the nose for tools you won't need

Undercharging for your time

Wasting money on advertising that doesn't work.

Stressing about where your next customers will come from

Preparing for things that won't happen
Introducing The Guitar Repair Business Starter
The step by step approach to making money with your passion, beating your competition, providing more value- all by doing something immensely easy and enjoyable to do.
"This course is a very good course not only for beginners, but for musicians that are wanting to work on their own guitars. Eric goes into good detail on how to do each task in the course. All of the advise and suggestions he gives on starting a business are spot on. The information I took from tis course will be a great help in me meeting my goals. I would recommend this course to anyone interested in becoming a luthier or just wanting to keep your equipment spot on."
Danny Mans
"I have been building guitars and learning setups thanks to your class. I can see myself doing it as a side job in the future. I have been greatly helped with the information you have provided in your class for setup and maintenance of guitars. All in all, I think you have done a great job putting together the information for the course and in the demos. I can see myself going back and replaying parts of the course in the future." Thomas Preshong
""The course is great for getting people the confidence to open up and set up business and marketing tools.  I did all that and Ive had 2 customers." "
Denny, DMB Guitar Workshop, Illinois
"Had only been playing guitar for two years and it's an acoustic guitar at that. I started off with basically zero tools just some I had around the house here and there. The course is fantastic and easy to follow. I started my business as soon as I was comfortable doing a basic set up. That was literally only a couple of weeks into the course. About a month into the course I changed out a couple of old Seymour Duncan pick ups. There were several times I got a little overwhelmed and called Eric and he literally gave me almost hands on personal attention. My customer gave me a five star rating on my Google business page. Eric and his course get a five star rating from me and I certainly have told others about this course. Thank you my brother."
Gary Smith
"Through this course I started my business.. "What The Heck Guitar Tech." I strongly recommend Guitar Repair Business Starter to anyone interested in Guitar Repair. I have been a tech at a local guitar shop for about a year now. I decided to finally tech for a living on my own. This course has taught me new skills to add to what I have already learned. Eric is to the point and is there to answer any questions you may have. I can't be more pleased with this course. Thank You Eric for taking the time to put this together. You are a great tech and teacher. Keep up the great work!"
Shane Johns
"I'm already up and running. Have a small following on FB and getting jobs in. Only open for about 3 weeks and have made close to 500$ so far. " Ray Sanchez
" After consuming all of the content—some of it several times—I have been in my workshop pretty much every day since then putting what I've learned into action. I've even begun to venture into building my own instruments. I can't say enough about the value of the course content, it's absolutely stellar, and the ongoing support is just as good. As a guitar picker myself, I've been able to greatly improve the playability of my own instruments while honing my skills. Along the way I've also been going through the steps of setting up a business to offer my services to the public. I feel confident that when I pull the trigger in the very near future, I'll be ready, thanks to a great foundation from Eric's step-by-step tutorials. Bottom line, I HIGHLY recommend the "Guitar Repair Business" course for anyone wanting to gain real-world knowledge in this field." Jay Vance
"I would like to express my thoughts on why i ' m endorsing this guitar repair course. I am 65 I have been playing guitar professionally since i was 15. I have played of guitars that have not been set up and guitars that have. I had a 73 year old friend that thought Gibson set their guitars up from the factory and I will not argues with a senior citizen but this guy bought a Gibson S G one month and sold it the next. I asked him did you have it set up and he said the factory did it. NO! Folks the factory only sets them up to their specs and they might not be what's best for you.Not every guitar from the factory will need set up i was oblivious to that for years. Ask yourself these questions, Am i really happy with the feel of this instrument? Do i get tired of playing it too soon? Do I have to press too hard on the string to get clear tones? This is my point. Erics class teaches the student how to set up a guitar and the basics a person need to get started . He gives you a tool list that is basic for a luthier, he introduces the entrepreneur side of having a repair business. He has several videos available;on how to do the tasks someone needs. He has online training sessions pretty much every week. (I enjoy these because Eric is great about interacting and answering questions and I get to interact with other students as well). Eric is very fast about responding to emails to the course. I now have the confidence to fix someone else's guitars and I feel confident because of the content eric presents whether it's how to check electronics a truss rod adjustment or basic mental strategies about taking on new tasks and having confidence on setting up a repair business and working on guitars, I know the overall price looks big but look at the course content and Eric will be there for the student because if the student succeeds then the instructor succeeds and being retired army and an instructor in the army i know this to be true. So review the content, ask Eric any questions before you sign up, because Eric will answer them. Once I tried volunteering at a luthier's shop and even this guy was the best in my area he just was not a teacher type. To this point in time have set up three guitars on my own. I have confidence to work on someone else's guitar because of the guidance Eric has provided. My guitars play great. You are getting a great course with several resources and a human instructor who will be there for you (Eric does enjoy the student interaction in the training sessions) when you have a question. Enjoy your course see you in the training sessions." Larry Lehman
"I have been playing guitar for 43 years. Always wanted to do my own setups and modifications but found it less than satisfying to rely on YouTube alone. Eric does a great job of centralizing all the info and guiding you through each procedure, both with pre-recorded lessons and live sessions (which are available to rewatch later). Also, I found the lists of recommended tools very helpful. The business start up info is on point. I have always considered myself clueless when it comes to this stuff, but found it pretty easy to get up and running. All in all, an excellent value. I've already made back what I paid for the course! " Joel Pearson
"Thank you so much for your course!!!! Your course has kept my head above water! You have given me a Huge set of ____ to go after my Passion!!!! I will forever be indebted to You! " Blair Feher
Gary Smith collected a 5-Star Review on his first service.
Two weeks after enrolling in the course!
Get Full Support As You Embark On Your Journey
You don't have to go it alone. It is a self-paced course, but others are right there with you. As you access your training, you also have access to an exclusive community as well as email and phone support from the instructor.
LIVE Bi-Weekly Coaching Sessions

Value: $199

Prefer live coaching over self-paced modules? Not a problem. I'll be going LIVE twice a week to coach you .This is your chance to ask questions or discuss specific issues. I'll be showing you, in real time, how to perform services. You're in the room doing the repairs with me.

Access To My Student's Only GRBS Community

$49

​Ask questions on any topic and get answers ​Show off your work, connect with others on the same journey ​Get continuous support on your journey

Bonus Chapters

$199

Re-fretting: Learn the easy way to pull frets and install them ​Use the right techniques and tools to do a professional job. Parts-casters, Acoustic Crack Repair, Filing Sharp Fret Ends.
"Everything was to the point and explained with great detail without bogging down with uninteresting topics. Great job. Pretty excited to see how far I can take this endeavor for a little financial freedom."
Dale Mcgraw
"I'm very pleased with the course and Eric and what he has going on. It's very inspiring to go on and do this also. everything was spot on. I know it's on a budget and that's ok! I'm coming back for more I'm sure." Kevin Drake
"Hey Eric The course is great. It has showed me a lot of things that have helped me. I have had a few customers so far... I have some presence on the web, I am on Instagram, Google, Facebook and I have a website, [] I do see myself doing guitar repair for awhile, would be great if it turns into a full-time gig. I enjoy it very much. I just this week got hooked up with Stringjoy to start carrying their strings so that is another option I can now offer. I look forward to completing the course and I will be going back to watch some of it as I need pointers while doing some jobs still. Your feedback is always welcome with me. Thanks for the course."
Greg Stoner
"Eric, just wanted to check in and let know that even though I haven't finished the course yet...I have gotten 3 customers and average $100 per customer. Thanks for making the course it gave me the confidence I needed to do this." Mike Hardy
100% Satisfaction Guarantee
Try the course with no risk.
Enroll in the Guitar Repair Business Starter and get reassurance that if the course doesn't work for you, you have 30 days to request your money back with no questions asked. We want to make sure you get your value for money and find our product helpful.
Here Is What Happens Next
Click any of the buttons on this page!
✅ You go to a 100% secure checkout page ✅ Choose your payment plan
To recap, here's everything you get when you enroll in Guitar Repair Business Starter…
14 comprehensive course modules
Welcome to the course

The services customers want most (Acoustic, Electric and Bass Setups)

Electronics

Fret Dressings

Nut Replacements
MASTER THE BUSINESS BASICS (VALUE: $397)
Laying the foundations for your guitar repair business

Delivering 5 Star customer service

Promoting your business with ads

Maintaining the financial health of your business
ADVANCED GUITAR REPAIR SKILLS (VALUE: $397)
Acoustic crack repair

Tuner replacement

Fret ends

Re-fretting

Nitrocellulose Lacquer

Drop Fill Glue Repairs (Coming Soon)

Neck refinishing

Neck profile shaping

Grain filler
Weekly Live Sessions

$199 VALUE

Join us live with a seat at the workbench.

Private Community Access

VALUE $49

Ask questions and get support

BONUS CHAPTERS

VALUE $199
Troubleshooting Cheatsheet (VALUE: $37)

High-res pics bundle (VALUE: $27)

Tax resources (VALUE: $27)

Invoice template (VALUE: $27)

Google Ads Swipe File (VALUE: $27)

Record Keeping Spreadsheet (VALUE: $27)

Guitar repair pricing guide (VALUE: $47)

Income tracker (VALUE: $27)
Yes, every live session is recorded. Here are more answers..
Do I need to work through the entire course before I can start my business?

86% of customers will request the service I teach in one of the very first modules. This means you can start providing the service (and charging for it!) as soon as you've got this skill down. Students have reported customers before the course has ended.

Do I need a retail space?

No. When I first started, I was working from my living room floor. What matters is the skills you gain. Working from home means more profit in your pocket. So that's a plus too.

What if a customer requests something I don't know how to do?

You get to choose which services you offer and which customers you accept. You don't have to do any work you are not comfortable with. And you can revisit the advanced lessons anytime you need a refresh. Some students are jumping right in and doing fine. Others are picking and choosing jobs in the beginning.

I already know how to repair guitars. Will this course show me how to get clients?

I'll show you multiple methods for gaining clients. You'll discover how to appear on the first page of Google when people search for guitar repair in your area. And you'll learn how to run ads on Google that deliver customers late in the buying cycle.

I have no experience in guitar repair. Does this matter?

This course is for total beginners. No previous knowledge in guitar repair is required. That said, the course is the best fit for guitarists that have been playing for a few years. You'll need to recognize good playability and have an ear for buzzes.

I live in a rural area. How do I get people to come out here.

You'll be surprised. Neighbors you never expected played will come with guitars in droves.

Is the focus on acoustic guitars or electrics?

There is a mix of both. Electrics account for the majority of the business. However, acoustic players are a very strong segment of customers. Most players own at least one acoustic.

I notice the prices seem very high, what if people in my town won't pay that much?

The idea is to set your prices in line with your competition. If you don't, you won't be perceived as a high quality option. You will actually lose business because you're not charging enough. You can always give discounts to military, seniors, students, etc..

How do I get customers when there are other good shops with a reputation and store front.

Customers follow a logical progression. They have a need and perform a search on Google. They use one of the options Google presents them on page 1. Students following the course are showing up on Google page 1 in weeks.
You've Made It This Far...
Everything you need to start your guitar repair business is at your fingertips.
Starting something new is tough. I know, I've been there. But doing nothing also carries the consequences of never achieving your goals.
With Guitar Repair Business starter, you can start performing high-paying services with confidence. You can fast-track yourself into a new career or a lucrative side gig. 
As a business owner, you don't have to commute to work. You get to spend your time how you please and have customers come to you. 
I can't promise that it will be easy. But I can promise that if you enroll, you'll have the tools and resources you need to start your lucrative guitar repair business.
See you on the inside,
Eric
Start Your Guitar Repair Business!
Get Started For As Low As $49/ month for 12 months
30 Day Money Back Guarantee